I absolutely love reading, but always had this problem with finding the time to sit down and properly get into a good book. Well recently I've been making some changes to my life, and incorporated more reading into my life mainly by these two changes:
1. Reading whilst travelling ... it really makes the time go by a lot quicker!
2. Using my library card... a huge variety of books across a variety of towns, alongside having a time limit to read them on means properly focusing on what I'm reading!
This has resulted in a lot more books being completed. I've really enjoyed a lot of the titles I've been picking up recently, so I thought I'd do a monthly update here, especially as I love reading other bloggers book review posts!
#GIRLBOSS by Sophie Amoruso
Alongside many other people, I had eagerly awaiting the release of Sophie Amoruso's book #GIRLBOSS. I kept seeing photos on Instagram, and tweets all over Twitter about how amazing the book was and that other bloggers & business owners found the books incredibly inspiring etc.
If I'm being honest, this was not what I was expecting. As a biography, it was quite a good read. After the hype I had seen all over social media, it wasn't quite the inspiring, 'let's get up and go' book I was hoping for.
Sophie's story is by far interesting, honest and real. The first line of the book "Life is Short, Don't Be Lazy" I thought was fantastic… I even wrote it down in my notebook ready to take brilliant advice and tips from the book… it turns out it's the only thing I wrote down after I read this book in one afternoon.
If you are new to selling online and how having your own small business works, I'd say this book will probably help you. As someone who has had eBay for years, and is now transitioning over to Etsy, looking for tips, I would not say this is the book for you.
It was still a really good read don't get me wrong, but it wasn't what I thought it would be.
The Rosie Project by Graeme Simsion
I started this book on a bus trip up to London, and it was finished by the time I got home that night. Absolute love this story! I checked it out from the library, but I'm ordering a copy so I can read it again some time in the future. The story was so sweet. I'm not sure if I'm the only one, but Don really reminds me of Sheldon from Big Bang Theory?!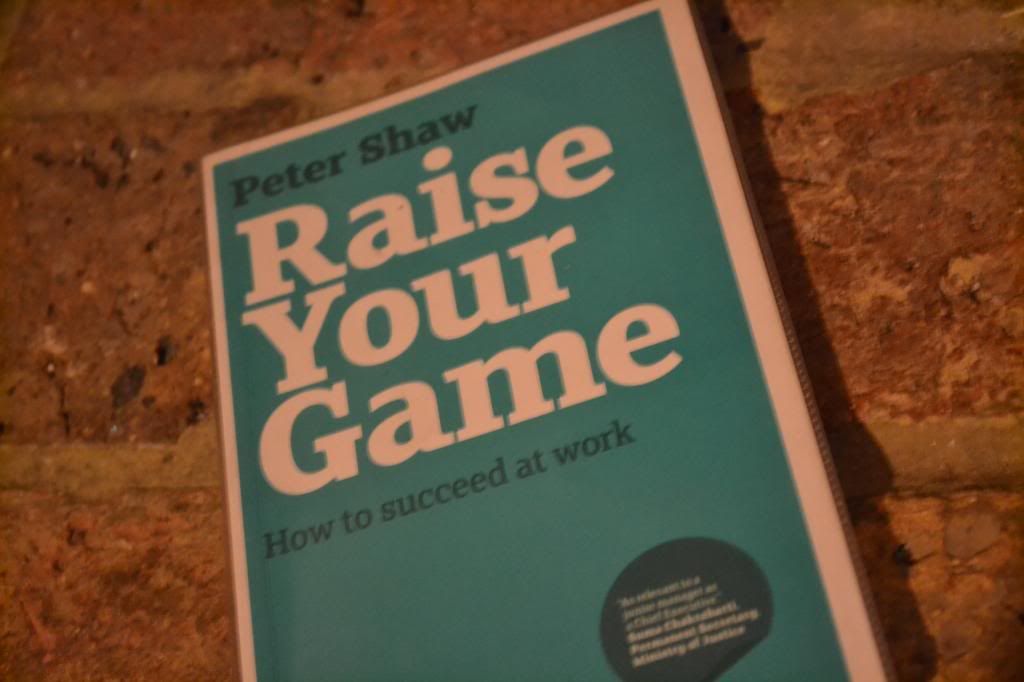 Raise your Game by Peter Shaw
Another library pick up here from the career development section. This book had some good tips, especially on things such as e-mail etiquette. Worth a quick read if you find it at your local library I'd say.
Network for Success by John Timperley
This book I actually found really helpful. For one thing, I find meetings, especially with new people, make me become so anxious, even though I know there is nothing to worry about. This gave fantastic tips, and gave a real insiders view to networking I felt. It made me feel at ease about going to events, and I took some useful notes.
Whatever you think think the opposite by Paul Arden.
This book sits firmly within reaching distance in my lounge. For many years now it has been my go to book. When I first brought it, I read it in about forty five minutes. I've read it countless times. If you haven't read this book, order it now. I promise you won't regret it!
This book has got me through interviews, anxious thoughts and times when I feel down or am doubting myself.
I've read other Paul Arden books too, but this one leaves me with a smile on my face every time I read it.
Game of Thrones by George R.R. Martin
With Season 4 of Game of Thrones ending on TV, what is left in my life but to now read the Game of Thrones set. Usually I don't like reading the books once I've seen the film/tv series as you know what's going to happen, so what is the point?
Well here, there is definitely a point to read the books. Firstly, there is way much more detail in the books and I actually think it makes the storyline so much better. I'm quite happy that I've seen the series now, as reading the book, I'm remembering what's happening as I read along.
The books are hefty, but once I finish this bad boy, it'll be worth it! Then only six more to go!
I'm also intrigued to see the supposed changed story lines between the series and the book.
My To Read List This Month
1. Finish Game of Thrones
2. Tales of the Jazz Age by F Scott Fitzgerald
3. It by Alexa Chung
4. When it Happens to You by Molly Ringwald
Miscellaneous
Hayley over at Water Painted Dreams is holding a
Summer Book Swap
... closing date for entries is the 28th June. I've already signed up, and you should too, it's a great way to send snail mail, and have some new reads ready for lazing on the beach or in the garden during the summer!
Sarah also hosts a book club called
The Self Love Book Club
. I've been following along with her posts for a while now, and I'm thinking now is the time, I'm going to start reading along and joining in with her Facebook group.
I'm also hoping to get out to
Poppy Loves Book Club
next month. I love reading her book posts, and I live within easily travelling distance of London
and
Notting Hill is one of my favourite places!
What books do you like to read? Do you participate in any book clubs?